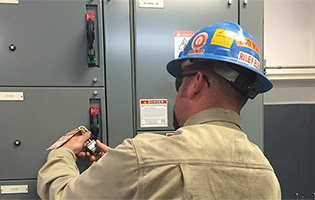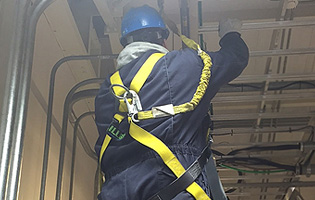 It is the policy of Riley Electric Company, Inc. to:
Provide a healthy and safe place of employment for all of our employees.
Abide by all safety regulations as they pertain to our industry, which are set forth in federal, state, and local standards and statutes.
Integrate good safety habits into every aspect of our company activity.
We put "Safety First" and our goal is to be accident-free. Our Safety and Hazard Communication Program is headed by a trained, independent safety consultant charged with supervising employee training. The program ensures our employees know and follow our company's policies and procedures and enforces guidelines for maintaining a safe workplace.

At Riley Electric, we have an excellent safety record with one of the lowest Workman's Compensation Experience Modification Rates (EMR) in the industry.

Our employees receive the OSHA 10-Hour Safety Training through the IBEW apprenticeship program and
are required to carry a valid BOLT Drug Free Card, which requires initial drug testing as well as repeated, random drug testing.

Safety Awards
2003 Kentucky OSHA Partnership Safety Award
2007 Western Kentucky Construction Association Safety Award

AGC of Western Kentucky Zero Incident Safety Award
2000, 2001, 2002, 2004, 2005, 2006, 2007, 2008, 2009, 2010, 2011, 2012, 2014